N 332
Hydro-pneumatic riveting machine for brake linings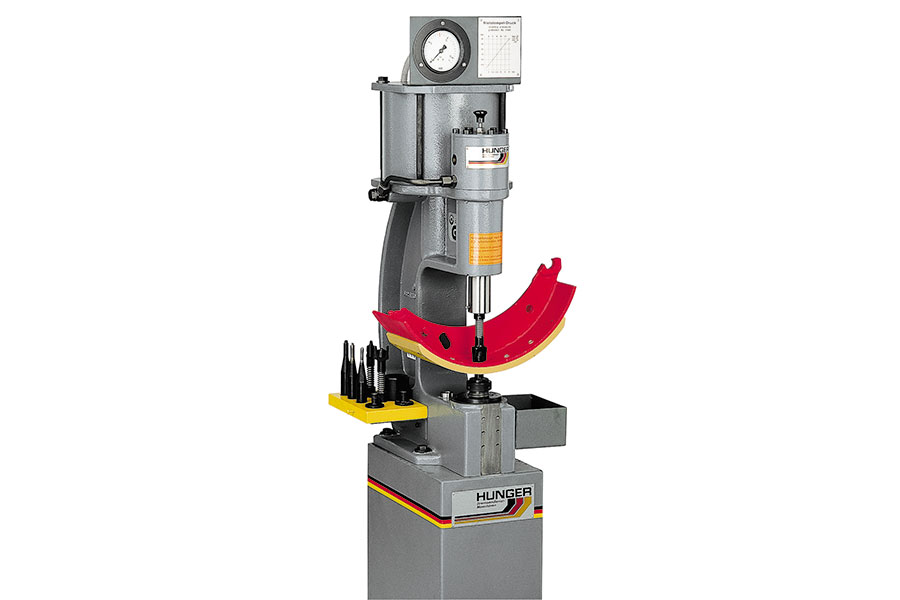 HIGHLIGHTS
Short set up time due to quick change tool mounting.
The maximum stroke of 50 mm facilitates faultless riveting even in not easily accessible places.
Riveting punches with preload spring
Brake shoe device for inverse riveting (option)
Useful for
Removal of the rivets of the old brake lining
Riveting of new brake linings
The N 332 possesses convincing performance charateristics:
50.000 N riveting force with an air pressure of 8 bar.
Working pressure from 1 to 8 bar steplessly adjustable.
The maximum stroke of 50 mm facilitates faultless riveting even in not easily accessible places.
Short set up time due to quick change tool mounting.
Deriveting without problems.
Riveting tools for all popular sizes and for various types rivets.
Brake shoe device for inverse riveting (option)
Special versions
For more information, please click on the respective picture.
Working data
Actuation hydro-pneumatic
Max. permissible
pressure
8 bar
Working pressure
steplessly variable
1 to 8 bar
Max. riveting force
approx.
50.000 N at 8 bar
Working stroke
50 mm
Ram speed
1,5 m/min
Air consumption
at 5 cycles/min approx.

265 ltr.
Tool mounting holes
20 mm dia.
Capacity
Max. width of brake shoe
300 mm
Max. height of web on
double web shoes

55 mm
Dimensions and weights
Bench machine
L x W x H
300 x 400 x 700 mm
Space required
machine + working area

1,0 x 1,0 m
Weight machine incl. standard
accessories and packing
85 kg
Noise level
The noise level at maximum air flow measured in accordance with standard DIN EN 31201 at a distance of 1 m from the machine surface in open space amounted to 8MB(A) at the working position.
Here comes a Footerstring