E 326g
On-the-car brake lathe for passenger cars and light trucks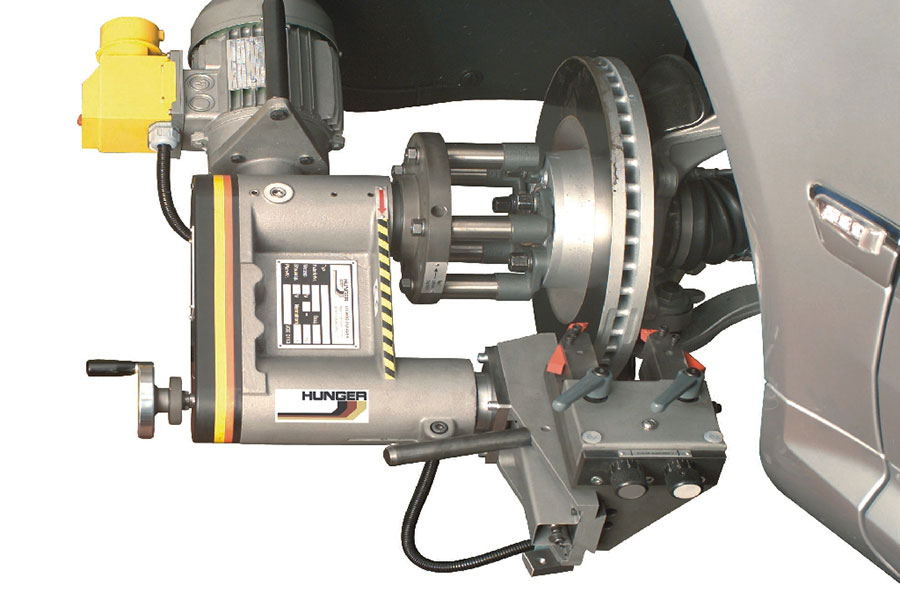 HIGHLIGHTS
High speed cutting with 112 rpm reduces operation time and enhances shop capacity.
Ideal when brake discs need great expense for removal
Less warranty complaints = higher customer satisfaction and better reputation.
Better braking performance through perfect seat and grip between pad and disc surface.
Universal adapter flange for mounting on almost all vehicle types and brands
Suitable for dismounted brake discs as well as for brake drums and for flywheels, the E 326g can also be used as a bench lathe.
Useful for
Turning of brake discs on the vehicle
Turning of brake discs off the vehicle (optional)
Turning of flywheels (optional)
Turning of brake drums (optional)
The extended version of the success model E 326a for machining brake discs up to 410 mm.
Ideal when brake discs need great expense for removal
Machining rotors on the car is the only method to eliminate customer
comebacks from pedal pulsation and noise.
The E 326g is also perfect for discs with rust deposits after a lengthy
storage and for discs where the removal is time consuming e.g. on
captured discs.
The E 326g with the highest disc turning diameter 410 mm easily fits on brakes of all cars/trucks like SUV, 4WD vehicles, Pick-up, high performance cars and even tuning kits.
Easy operation and perfect results regarding surface finish, parallelism and lateral runout of the brake disc.
Brake discs are machined on both sides in one operation, even on heavy cuts.
Intermittent feed for a nondirectional finish eliminates noise
complaints.
Suitable for dismounted brake discs and  for brake drums and even for flywheels, the E 326g can be also operated as bench lathe.
For more information, please click on the respective picture.
Capacity
Max. brake disc
Ø 410 mm
Max. brake disc thickness
45 mm
Slide travel radial
315 mm
Slide travel axial
115 mm
Spindle speed and feed
Spindle speed
112 rpm
Feed ("intermittent")
0-0,25 mm/rev
Electrical equipment
Total connected load
0,55 kW
Supply vortage
400V (230V) three-phase
230V (115V) single-phase
Frequency
50 (60) Hz
Power supply fuse rating
16 A
Type of enclosure
IP 54
Dimensions and weight
L x B x H
Space required with
storage cabinet
780 x 300 x 670 mm
Space required
Machine and working
area LxW
1,0 x 1,0 m
Weight: Machine with standard
accessories,
including packing
55 kg
Machine weight
32 kg
Noise emission
The workplace emission value taken in free area at a distance of 1 m from the machine surface according to DIN EN 31201 (at max. power volume), was without suction 71 dB (A) under full load.
Here comes a Footerstring