B 325
Brake drum and brake disc turning and grinding machine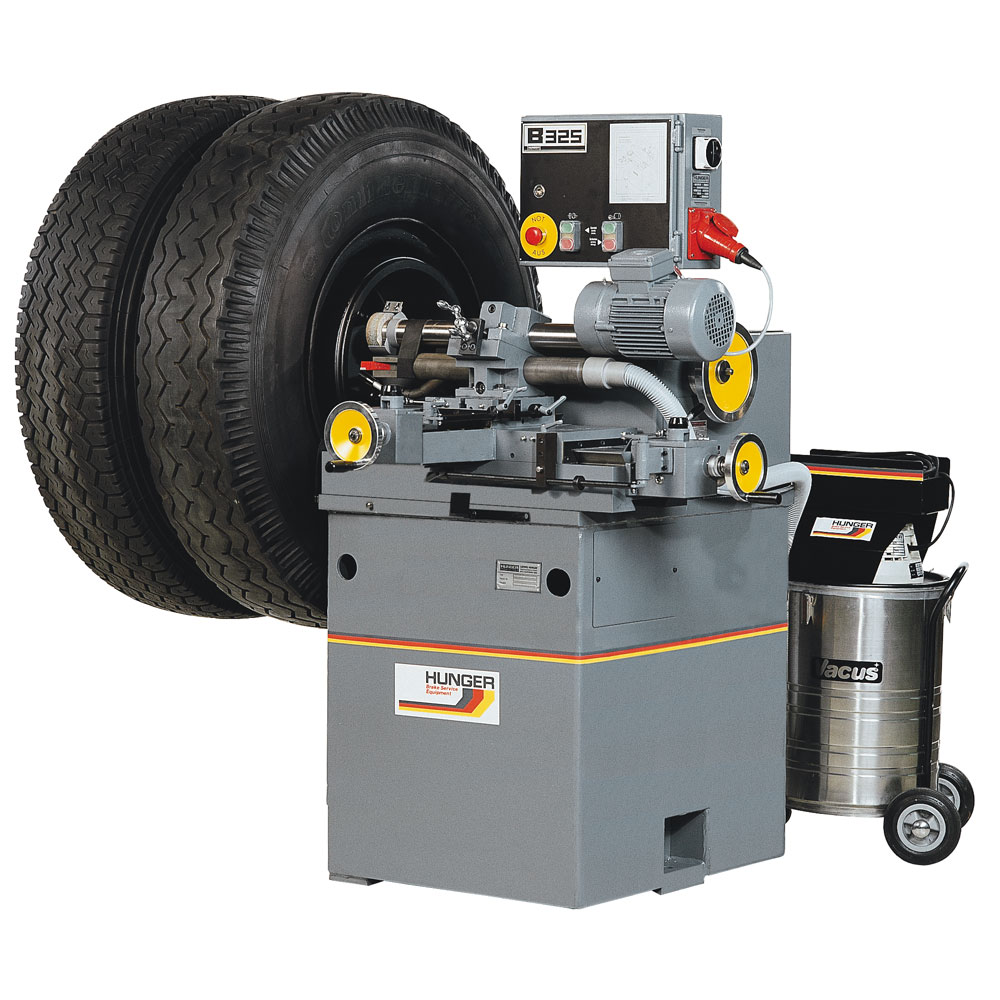 HIGHLIGHTS
Technically up-to-date "intermittent feed".
Longitudinal and transversal feeds each in both directions (in and out).
LCD position displays (optional)
Generously dimensioned slideways for saddle and cross-slide.
Short toolholders due to axially adjustable base slide, no vibrations in consequence
The far forward position of the spindle bearing with precision tapered roller bearings allows the work arbor to be subjected to high loads (800 kg!) without additional support. This allows quick, simple and unobstructed front loading of brake drums, with or without wheels.
Timesaving simultaneous turning and grinding of drums possible.
The powerful and effective dust and chip extraction provides a healthy and clean work station.
Robust machine frame for the setup of a jib crane (optional)
Useful for
Turning of brake drums of trucks, trailers and buses
Grinding of brake drums of trucks, trailers and buses
Turning of brake discs of trucks, trailers and buses
Turning of brake drums of industrial trucks, vans and cars
Turning of brake discs of industrial trucks, vans and cars
Turning and grinding of flywheels of trucks and buses
Turning and grinding of flywheels of industrial trucks, vans and cars
The B 325 is a universal brake drum and brake disc turning and grinding machine complete with cross-feed. It is also eminently suitable for turning and grinding flywheel clutch faces. Due to its many advantages, it has now become the standard machine in brake servicing shops. Key features include:
Technically up-to-date "intermittent feed".
Short toolholders due to axially adjustable base slide, no vibrations in consequence
Steplessly variable spindle speeds and feeds.
Longitudinal and transversal feeds each in both directions (in and out).
Tool feed drive by electronically controlled DC motors.
LCD position displays (optional)
Generously dimensioned slideways for saddle and cross-slide.
The far forward position of the spindle bearing with precision tapered roller bearings allows the work arbor to be subjected to high loads (800 kg!) without additional support. This allows quick, simple and unobstructed front loading of brake drums, with or without wheels.
Timesaving simultaneous turning and grinding of drums possible.
The powerful and effective dust and chip extraction provides a healthy and clean work station.
The particularly cost-effective B 325 with its highly perfected mode of operation offers an excellent price/performance ratio and rapid amortisation, even with only partial utilization. Machining approximately 85 brake drums on the B 325 covers the entire annual fixed costs. Every drum thereafter is profit!
The machine has been tested and recommended by virtually all the leading commercial vehicle manufacturers.
Robust machineframe for the setup of a jib crane (optional)
For more information, please click on the respective picture.
Capacity
Max. wheel
Ø 1800 mm
Max. turning and grinding
Ø 1000 mm
Min. turning
Ø 150 mm
Min. grinding
with the double mounting
with the single mounting
Ø
285 mm
260 mm
Max. turning and grinding depth
315 mm
Max. brake disc
Ø 600 mm
Max. brake disc thickness
60 mm
Max. radial width of machined brake disc surface
130 mm
Max. flywheel Ø
600 mm
Min. flywheel Ø
300 mm
Slide travel parallel to spindle
320 mm
Slide travel at right
angles to spindle
160 mm
Adjustment of base slide
200 mm
Spindle speeds and feeds
Steplessly spindle speed B 325 variable
20 - 125 rpm
Grinding spindle speed
4500 rpm
Intermittent feed forward and reverse steplessly variable
0 - 0,40 mm/rev.
Electrical equipment
Connected load
2,6 kW
Voltage
400 V (230 V)
Type of current
Three-phase current
Frequency
50 Hz
Power supply fuse rating
16 A
Type of enclosure
IP 54
Power of individual motors
Main motor
1,5 kW
Grinding spindle motor
1,1 kW
Dimensions and weight
L x B x H (including guard)
2,0 x 2,0 x 2,1 m
Space required machine
+ working area L x W

3,0 x 3,0 m
Main spindle axle from bottom
1110 mm
Weight machine including standard accessories and packing approx.
800 kg
Dust extraction
Dia. of trunking connection
Ø 32 mm
Optional accessories
Jib crane Installed height

2,8 m
Overhang
1,2 m
Lifting capacity
5000 N
Hoists Lifting capacity
5000 N
Noise level
The noise level at full load and/or max. flow
measured in accordance with standard DIN EN 31201 at a distance of 1 m from the machine surface in open space amounted to 84 dB(A).
Here comes a Footerstring